Post by HaloPredator on May 5, 2005 21:37:02 GMT 8
Greetings my fellow Imperials and Rebel Scum,

Just wanted to share some pics of our Pre EP3 Costuming weekends here in Singapore.
Just to digress a little, the Singapore Outpost of the 501st and Movie Mania SG, have been tasked to appear in costume for every weekend till the end of May in anticipation of the final chapter of GL's Prequels.
So, without further delay, here you go...more to come as the weekends come and go. ;D
Gala Night:
Weekend #5:
M1 Event, Parkway Parade [And a warm welcome to Shawn, our Scout Trooper!]
Vader and his newest trooper:
Weekend #4:
Charity Premiere Gala:
Weekend #3:
Lucasfilm & Fox Private Screening Reception [Lets give the Tie Fighter Pilot, Desmond, a warm welcome!

]:
HARDWARE Magazine Event at Tampines Mall:
Weekend #2.5:
Our Lord Vader...standing tall.
Stormtrooper #1 [Marcus]...Classic Pose:
Lord Vader & Sandtrooper...Always watching Vader's back: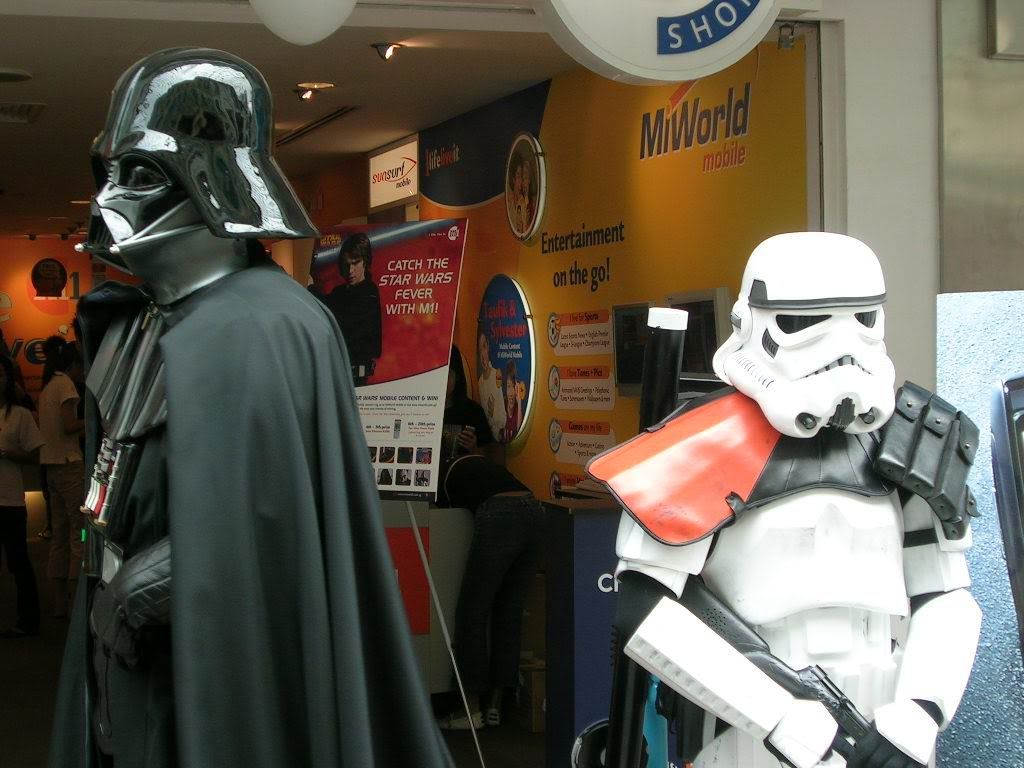 Stormtrooper & Sandtrooper...sharing a conversation "So do we kiss and make up? Sure, but no tongue...":
Qui-Gon Jinn[Danny], Cute Babe & Stormtrooper #2[Andrew]:
Weekday #2:
Trooping towards the Subway Station in Orchard;
[Andrew, Marcus and Me]
The Emperor and his Royal Guards:
[Conrad, Cavan and Stefan]
Guard Duty...again:) :
Movie Accurate Vader and Movie Accurate Armor Troopers:
[Tim:ANH, Reno:ANH/ESB Hybrid and Andrew:ROTJ]
Lord Vader and his fav Bounty Hunter:
Vader on the Subway[MRT] for FOX Singapore;
At the Subway Station for FOX Singapore;
[Me, Jeremy & Andrew]
Weekend #2:
Vader and his Stormtroopers:
At Pacro Bugis Junction Mall:
[Me, Reno & Marcus]
Pulling Guard Duty at Bugis:
[Marcus & me]
On the Creative Technology Open Top Bus, cruisin down Orchard Road:
[Marcus, Reno & me]
ROTJ Scene Reenactment outside Shaw House, on a Sat Nite:
[Marcus:RG, me:Emperor & Stefan:RG]
Taking a bow:
[Andrew:Luke, Marcus:RG, me:Emperor, Vader:Reno & Stefan:RG]
Sunday Morning Flea Market Appearance:
[Danny:ObiWan, Stormtrooper:Andrew, Reno:Vader, Darren:RG, me:Boba Fett]
Saber Duel:
[Danny:ObiWan & Reno:Vader]
Cineleisure Duel and our newest Sith Lord, Darth Peanut:
[Marcus, Darth Peanut, Reno & me]
M&M Saber Duel:
[ObiWanPeanut & Reno]
That's it for now...more to come, including VIDEO!
Stay safe,
Tim.



Weekend #1:
Cinelesiure Multiplex Photo Op:
Imperial March, Orchard Road Style, complete with photo ops:
Outside the Mobile One Store:
For the newer members, Lord Vader is Reno and I'm the Sandtrooper [as always]...complete with iPod playing Backpack and homemade Heavy blaster...
Oh, and for the accurate buffs out there, Lord Vader's chestbox was misalinged due to the number of local fans pushing and shoving to get a pic taken with him. The fans all loved the all black outfit and sexy heavy breathing. ;D
And my armor was dirtier, ALOT dirtier...the rain washed off most of the dirt. It'll be dirtier soon... ;D
Stay safe.
Tim.TEXTTEXTTEXT
---