Post by Administrator on Oct 3, 2006 23:49:12 GMT 8
UPDATE 21 OCTOBER 2006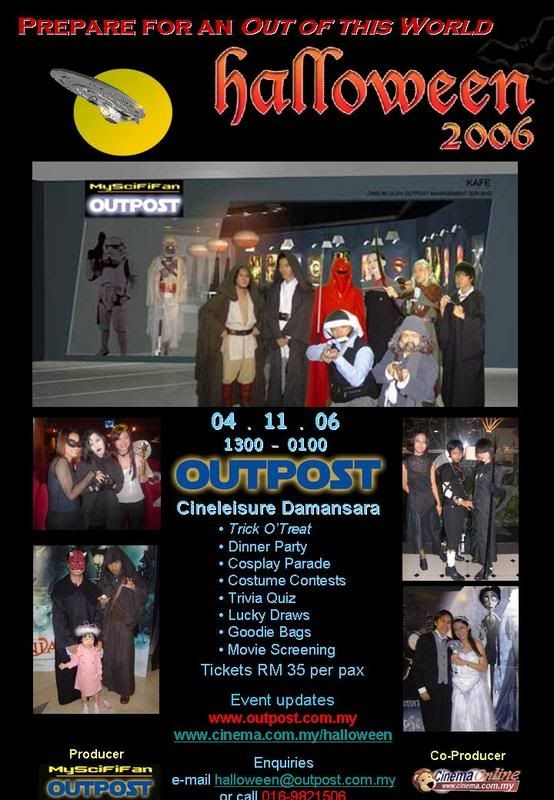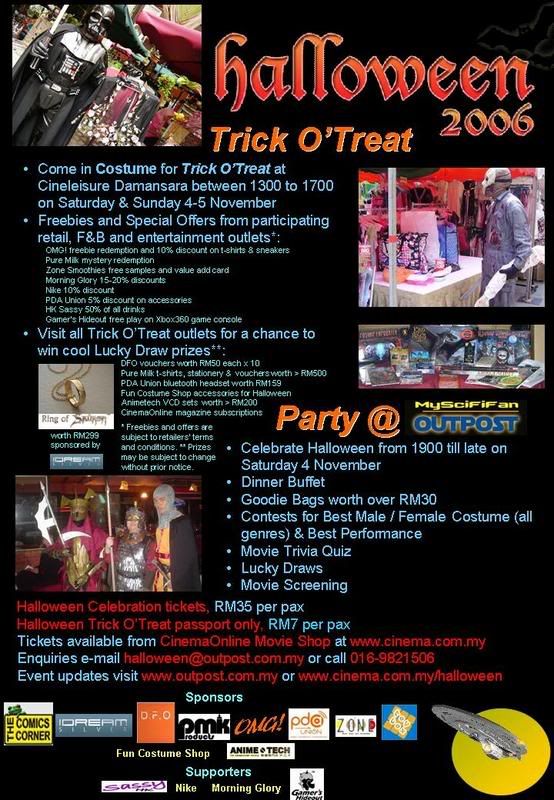 Tickets are available NOW from CinemaOnline Movie Shop:
www.cinemaonline.com.my/calf/newcart_sub.asp?load=33
Tickets may also be purchased at CinemaOnline's office during normal working hours:
No: 7A, Jalan SS4D/2,
People's Park,
47301 Petaling Jaya,
Selangor Darul Ehsan
Get RM5 off tickets with the Movie & Collectibles Bazaar discount voucher.
Party tickets are strictly limited, so book ours NOW by e-mailing halloween@outpost.com.my your name and contact number.
Thank you.
UPDATE 3 November 2006Trick O'Treat
=> A variation of traditional Trick or Treat, MySciFiFan's Trick O'Treat brings a whole new Halloween experience. Both adults and children in costume will be offered freebies and exclusive offers by supporting outlets at Cineleisure Damansara over the 4-5 November weekend. Sign-up for the Halloween Trick O'Treat Passport at the MySciFiFan Outpost stall at the Movie & Collectibles Bazaar to receive the following promos:
+
MySciFiFan Outpost:
Free snack
+
OMG!:
Free gift (while stocks last) and 10% discount for t-shirts and sneakers
+
Pure Milk / pmk products:
Mystery redemption
+
PDA Union:
5% discount for accessories
+
AnimeTech:
30% discount for purchase of any DVD and free key chain for purchases above RM50
+
Zone Smoothies:
Free smoothie sampling and value-add card
+
Sassy HK:
50% discount for all drinks
+
Gamer's Hideout:
Free game play on Xbox360 plus cash voucher
+
Morning Glory:
15% discount on note books & memo books and 20% discount on photo album & fancy items
+
Nike:
10% discount on normal priced items
Visit all the above outlets to collect a redemption stamp to stand a chance to win even more great stuff from the Trick O'Treat Lucky Draw (submit for verification by 5.30pm):
- Ring of Sauron prop replica from Lord of the Rings worth RM299, sponsored by
idreamsilver.com
-
DFO
RM50 cash vouchers
- Bluetooth headset worth RM159, sponsored by
PDA Union
-
CinemaOnline magazine subscriptions
- Fancy Costume accessories sponsored by Fun Costume Shop
- pmk T-shirts worth RM69.90, pencil cases worth RM35.90, and RM50 cash vouchers, sponsored by Pure Milk
- UFO Baby anime VCD set worth RM77.70 and Final Fantasy Trading Art 7-Figure Set worth RM55.90, sponsored by AnimeTech
Plus Goodie Bags for all worth over RM30 filled with CinemaOnline & Gamers Sideboard magazines and collectible trading cards sponsored by Comics Corner, as well as Movie & Collectibles Bazaar vouchers worth over RM50.
Get all of the above with your Halloween Trick O'Treat passport for only RM7/- from the MySciFiFan Outpost Stall. No costume? Simply rent one for the day from Fun Costume Shop at the Movie & Collectibles Bazaar.

Party => Once the sun sets, head to the new MySciFiFan Outpost for an Out of This World Halloween Party starting with a delicious buffet dinner featuring:
+ chicken fettucine
+ vegetarian fish with mango salsa
+ deep-fried beancurd packets
+ seafood bread rolls
+ mini cheese rolls
+ fresh salad
+ baked fish
+ potato rosti with cheese sausage
+ fruit cocktail
Costume guests are welcome to join our Costume Contests. All genres are welcome, including sci-fi, fantasy, anime, comic, etc. Cool prizes for Best Male Costume, Best Female Costume and Best Performance categories include:
- Ring of Sauron prop replica from Lord of the Rings worth RM299, sponsored by idreamsilver.com
- pmk T-shirts worth RM69.90 and RM30 cash vouchers, sponsored by Pure Milk
- Fancy costume black cape worth RM79, sponsored by Fun Costume Shop
- DFO RM50 cash vouchers
Brush up on your movies for a chance to win even more prizes from our Movie Trivia Quiz with goodies comprising Lord of the Rings trading cards sponsored by Toybox and Magic The Gathering game cards sponsored by Comics Corner.
No costume and no movie knowledge? Still good stuff to be won from our Lucky Draws:
- Halloween Micheal Myers 18in motion activated figure and Star Wars Darth Maul mask, sponsored by ShiokToys.com
- Aliens vs Predator 12in action figure sponsored by e-toyz.com
- Naruto Ultimate Collection 6-Figure set, The Vision of Escaflowne, and Nazca VCDs, sponsored by AnimeTech
- DFO cash vouchers
- CinemaOnline magazine subsciptions
- MySciFiFan Outpost cash vouchers
Finally, finish the night by chilling out over our mystery movie screening.
Get this complete Halloween Celebration package for only RM35/- (including option for Trick O'Treat). Claim RM5 discount with the Movie & Collectibles Bazaar voucher.