Post by The SITH OverLORD on Feb 1, 2007 19:22:34 GMT 8
Posted this thread to provide a ONE STOP ANSWER to some of the e-mail inquiries I've been getting since last year and will be coming my way when the 501st MALAYSIA-BRUNEI OUTPOST picks up in our trooping and growth this year! ;D

Note that ALL Stormtrooper Armor Kits out there are 100% FAN MADE and not purchased from Lucasfilm. Please read this Legal Disclaimer,

"Star Wars, its characters, costumes, and all associated items are the intellectual property of Lucasfilm. ©2007 Lucasfilm Ltd. & ™ All rights reserved. Used under authorization."

now coming back to the Frequently Questions Asked :

WHERE can I get Stormtrooper armor locally in Malaysia?

NO, in general most of the Stormtrooper armor is available overseas (mainly the U.S.) and could be purchased online through www.ebay.com - do a search in eBay by typing "Stormtrooper Armor"

However, currently as at the time of typing this FAQ, Shiok Toys now located at Cineleisure, Mutiara Damansara, happen to have a set of Stormtrooper Armor Kit for sale. Check it out by clicking onto this Stormie icon.



Also to-date, to the BEST of our knowledge, there are NO props make over here in Malaysia who makes fan-made Stormtrooper Armor (or other STAR WARS armored character costumes like the Clonetrooper from either STAR WARS Episode II or III). But then again who knows in the next few years time?



Can I PUT on a set of Stormtrooper armor straight away?

NO, if you are talking about a BRAND NEW fan made Stormtrooper Armor Kit. Trimming and Assembly is required as if you are assembling a Model Kit, but this kit is a 1:1 Scale Stormtrooper kit.



Here is what is what you will get when you purchase an entry level set of FX Stormtrooper Armor Kit :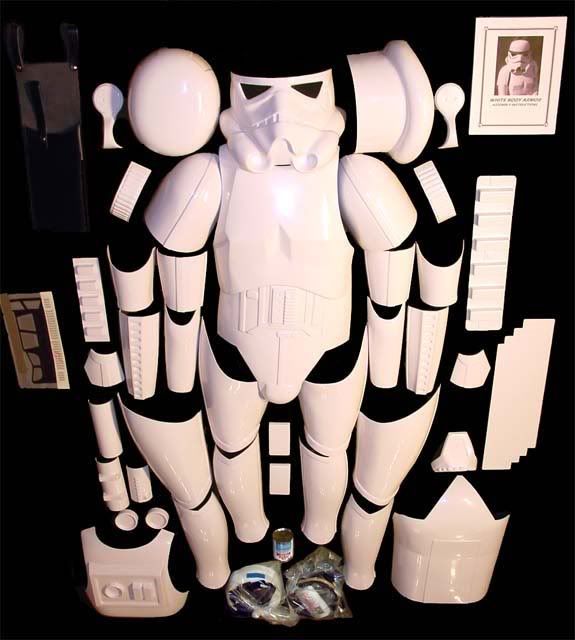 or the AP Stormtrooper Armor Kit, which is more screen accurate compared to the FX Armor (IF your budget allows

)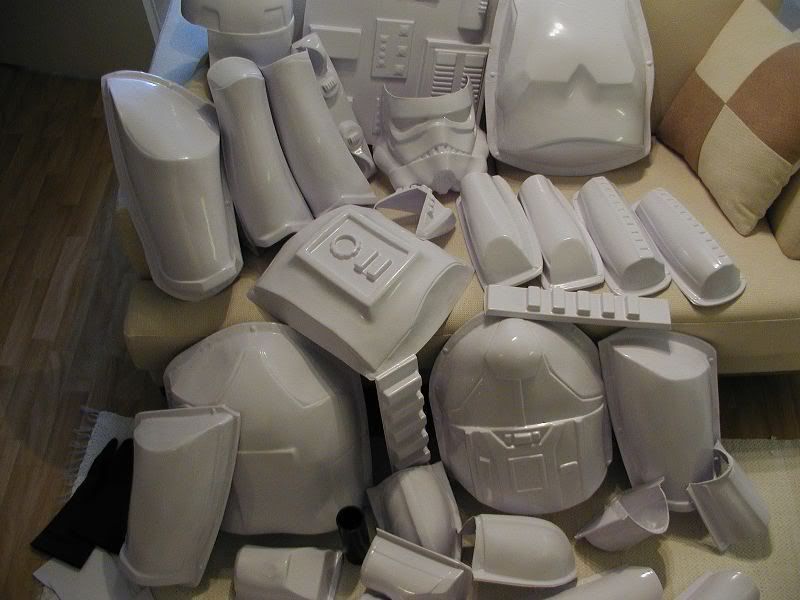 HOW MUCH does a set of Stormtrooper Armor COST ah..hehe..?

On the average a set of entry level FX Stormtrooper Armor cost around US$650 (approx. RM2,340) based on what I've seen in eBay. You're LUCKY if you can purchase a set between the US$500 (RM 1,800) to US$600 (RM 2,160) Price range. Please note that this is just the Price for the UNASSEMBLED Armor Kit and BEFORE Shipping to Malaysia. The Air Mail Shipping would cost you an additional US$90 about RM 324. ;D

Let's just call this is an INVESTMENT instead of an el-cheapo Halloween Costume which your wear for the current year's Halloween and chuck it away after wearing it.
Wah!! Too EXPENSIVE!!!

then can I make a set of Stormie Armor on my own?

YES, you can, why not? ;D There are 2 Highly recommended websites that provides you with the Tutorials on how to make your own complete set of Stormtrooper Armor :

1. TK 560 - MAKE YOUR OWN STORMTROOPER ARMOR



Here is a brief sypnosis from this website :

"Yes, you can build your own bone white armor, if you have the right tools, have a lot of spare time and know a few secrets! Here's how I did it......."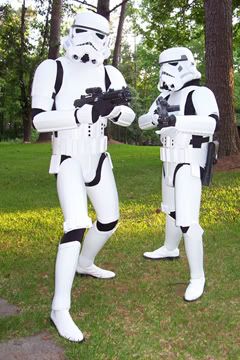 2. Studiocreations - HOW TO BUILD A STORMTROOPER COSTUME



Here is a brief sypnosis from this website, which has been around since 1999.



"That's right , this website will show you how to build a stormtrooper costume from the ground-up. Everything from making a bodycast of yourself to sculpting out the parts correctly, and then pulling vacuumformed plastic for the final pieces. Its' all right here........"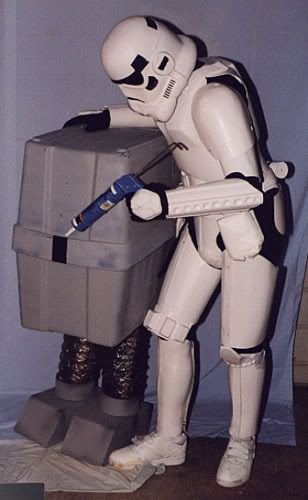 The answer will be NO, IF you are NOT WILLING to INVEST on the RIGHT TOOLS, MACHINES, MATERIALS and spend the TIME involved to make the individual Stormtrooper Armor parts as instructed in these 2 websites. Then its back to square one - BUY the Stormtrooper Armor Kit. ;D

....more to come in the next posted reply.