Post by fishyahoo on May 24, 2010 1:15:21 GMT 8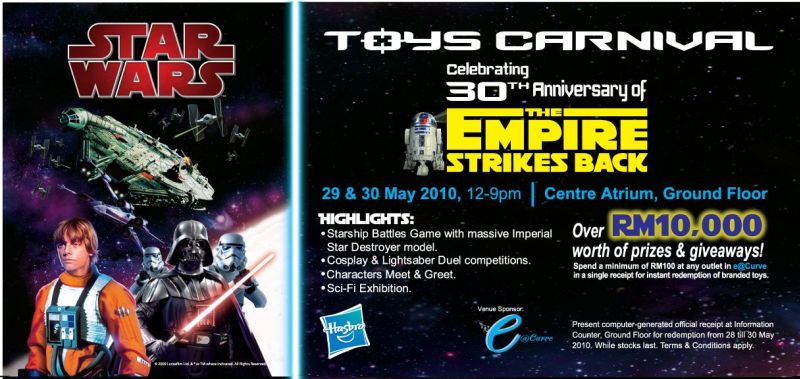 THE EMPIRE STRIKES BACK AFTER 30 YEARS
Petaling Jaya: This year marks the 30th Anniversary of Star Wars Episode V The Empire Strikes Back in 1980. To celebrate this special occasion, Hasbro Malaysia will be organising a Star Wars Toys Carnival on the weekend of 29 & 30 May 2010 at e@Curve Mutiara Damansara. Fans of the venerable sci-fi saga will have the opportunity to participate in thematic Star Wars activities over the 2 days with the opportunity to take home with over RM10,000 worth of prizes and giveaways.
The event will unveil the largest Imperial Star Destroyer model in Malaysia being deployed as a game piece in the Starship Battles tactical space combat game. Players will play the role of starfighter commanders for the Rebel Alliance or Galactic Empire using Hasbro's 3.75in series spaceships over a massive floor-map of space laid out in the Centre Atrium of e@Curve. Players who achieve their mission objectives will win Hasbro Star Wars toys. Star Wars fans and e@Curve shoppers can participate in Starship Battles for free.
Specially for die-hard Star Wars fans, there will also be a Costume & Cosplay Competition and Lightsaber Wielding Tournament on Saturday 29th May with special appearance by the 501st Legion, an international fan-based organisation dedicated to screen-accurate costumes of the various iconic characters from Star Wars. Visitors to e@Curve can expect to see the likes of infamous Darth Vader and Stormtroopers from the local 501st Malaysia-Brunei Outpost.
To cap-off the celebrations, Malaysia's Science-Fiction and Fantasy Community, MySciFiFan, will be hosting a Star Wars Fan Party at Cathay Cineplex Damansara on Saturday 29 May. Refreshments will be served in the Preview Lounge with fan activities providing further opportunities to win Star Wars merchandise from trivia quiz and lucky draws. Organised by fans for fans, entry to party by invitation only with token contribution to a giant Star Wars inspired birthday cake.
Shoppers at e@Curve also get to be part of the celebration where over RM5,000 worth of branded toys will be given away with minimum spending of RM100 from any shop in the mall from 28 to 30 May 2010. Giveaways to be redeemed at the Information Counter, Ground Floor.
Find out more event details online at Facebook Group
"Star Wars Fans Malaysia"
at:
www.facebook.com/?sk=2361831622#
!/group.php?gid=114202801935192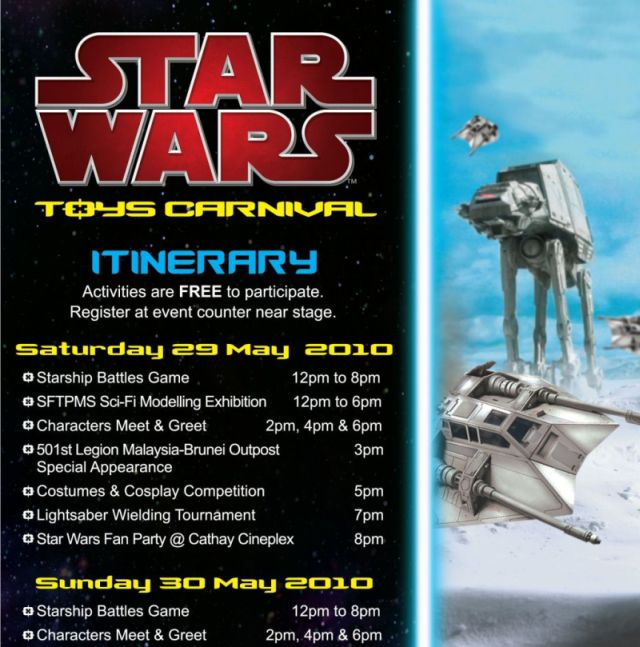 May the Force be with You!