Post by fishyahoo on Apr 19, 2005 18:22:13 GMT 8
INFILTRATING A THIEVES GUILD
None too successfully on the 'infiltrating' part...
The elite group (those who are present:P) decided to press on down the corridor in search of the 2 mysterious ratlike archers that shot the dwarf. The rest cowardly people stayed outside playing with the donkey.

The long 10' corridor banked right and continue on for quite a distance. Off to the left side was a room with 5 practice dummies. Interestingly, these dummies have substantial damage along the critical regions such as the kidney, the heart, the throat and the head. One of them was even facing the wrong direction with arrows stuck out its back. Nothing much was of interest in the room save for 2 small cabinets with throwing weapons which the dwarf and Cirdan looted.

The corridor opened into a huge room filled with traps, machines and weird contractions that looks like a training ground for thieves. As the brave dwarf scouted one of the 2 staircases at the sides of the hall, 4 arrows flew by him narrowly missing his dwarven hair. At the same time, something that sound like glass breaking was heard down the corridor where we came from. A bunch of weblike substance thus blocked our escaped path.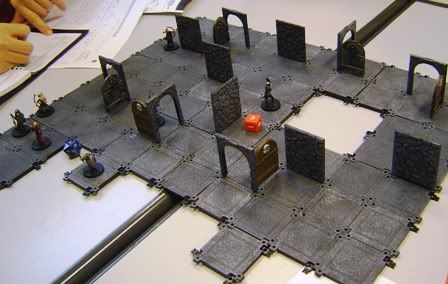 Finding the thieves training grounds.
While the 2 mages did cowardly stuff at the rear, the rest pressed forward to flush out the hiding thieves. Aye charged forward and was shot wounding him severely. Yet he persisted and was rewarded with a thief sticking this shortsword into his sides. Bretak the dwarf along with dex the fighter moved on cautiously trying to outflank the thief. Just as the 2 of us cornered the thief, another one sprung up and stabbed Bretak in the back. To make matters worse, Alana the useless ranger shot at the thief but missing and hitting the dwarf instead! Curse the human ranger and she shot again, missing and hitting dex!
Human ranger Alana shoots her own party accidentally; do NOT shoot arrows with your friends in the line of fine!
Meanwhile, the 2 cowardly mages crept forward and successfully let out a magic missle doing minimal damage and performed a magic show with a lit arrow for all to see. Anyway, after slaughtering the 2 thieves, we took the stairs down.

As we crept down, flaskes broke above us followed by a flowing green smoke descending down the stairs. As we flee from it, the 2 leading fighters triggered some blue mushroom and choked to unconsciousness. Well, to make story short, we fleed from the cave soon after and rested.

What's next? Somebody's village going to BURN!!!!!!

Party order through the narrow dungeons.
Endgame: final assault on thieves guild HQ!