Post by LordRaven on Feb 17, 2005 23:56:41 GMT 8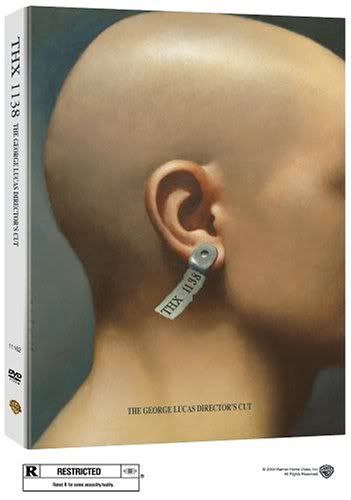 Greetings, my fellow Sci-Fi Fans from around the globe. LordRaven here, with the first of what I hope to be the many reviews here for MySciFiFan. I plan on reviewing movies, games and just about anything I think is cool and should be here to share with you all. I will make sure my reviews are SPOILER FREE and if you have any questions or really want to know something, my e-mail will be at the end of every review. Without further ado, let's get to the meat and potatoes of my rambling.
A Long Time Ago, In a Univeristy Far Far Away...
A young film student named George Lucas made a 20 min long film, when all he was asked for was 5. The name of the black and white film was "Electronic Labyrinth THX 1138 4EB". He made a film that was out of the box, and different than what his peers had been doing. and got the attention of a fellow film maker named Francis Ford Coppola. Together, they made THX 1138 into a full feature film. It's release in 1970 was met with mixed reviews, and even the movie company requested Mr. Coppola to give back the 300,000 USD they had given him for projects. Fast forward to 2004, and in Mr. Lucas fashion, he went back to his first real movie and made "THX 1138: The George Lucas Director's Cut"
THX 1138 is the story about a society kept calm with drugs, and where nothing is rebellious, sexual or out of the ordinary. The world is boring, and controlled. THX (a young, bald Robert Duvall) falls in love with his roomate LUH. Thier crimes are caught on survelliance and they are seperated, and THX is imprisoned. The world that THX lives in is based on consuming, being sedated and simply doing your job. THX's job happens to be building the robotic Police officers who keep the world in check, rather ironic to say the least. Their religion is a simple booth, with a light up picture of a 'jesus like face". A world to live in, but not be truly alive.
The film itself is very different than anything really "mainstream" George has put out. It is a science ficiton film in that the world they live in is futuristic. There is constant noise, hardly ever silence. It is the story of a man who wants more than what his world has to offer, and decides to do something about it. It is depressing arty film, that really makes you wonder just how in control of our own lives we are.
As for the Special Edition additions, George was VERY subtle with this film, as apposed to the SE versions of Star Wars, minor CGI scenes are almost unnoticable. This was the movie George wanted the world to see back in 1970, but the company hacked and changed to something else.
The movie is wondefully remastered, as always. With George's money and facility access, how could it not. My recommendation is to watch the movie with subtitles, so you catch everything that is said in the background you might not catch normally. You might find a thing or two that will make you snicker. In this 2 disc set, there is a wonderful audio track of George and Co-writer/ sound designer Walter Murch that gives great insight to the entire film. The original film is on the second disc, as well as a feature on American Zoetrope, the company that originally helped to make THX 1138 possible and the vintage production featurette "Bald"
This movie is not for everyone. If you're expecting Star Wars, Willow or Doctor Jones, then watch those movies. But, in the whole scheme of things, if it wasn't for this movie, for George's experinces in making it, or it's minor sucess that got him the acclaim to make American Graphitti, he never would have got to Star Wars. If you're interested in different film styles, and seeing how our hero George got his start, check this movie out.
That's it for this review, any questions you'd like to ask me directly, e-mail me lordraven@ns.sympatico.ca . With "Words From The Great White North", this is your crazy Canuck Lordraven signing off.