Post by The SITH OverLORD on Jan 16, 2007 16:38:46 GMT 8
clonetrooper said:
Differences I noticed between "Made-in-China" and "Made in Singapore":
China: upper and lower chest and upper/lower back are one piece
Singapore: upper and lower chest plate seperate (same for back)
China: Biceps mould/shape not accurate(just round "water pipe" shape);
Singapore: Looks better/more accurate(haven't really confirmed) but at least not a simple round "water pipe" shape as the China one;
China: Not so glossy (from the pix)
Singapore: More glossy surface (from pix)
China: No separate groin plate
Singapore: Separate groin plate
That's all I can spot so far at a glance


You have done GOOD VISUAL analysis of the Singapore fan made Episode III Clonetrooper armor kit vs this Made in CHINA Ep III clonetrooper armor from eBay :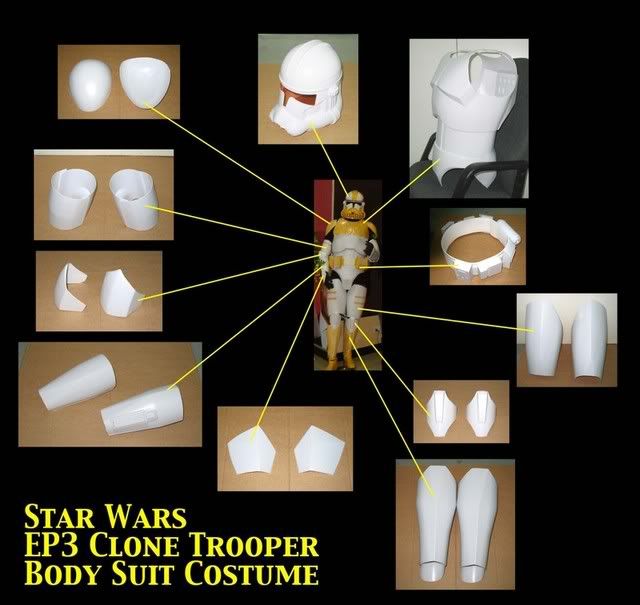 I'll ADD on further to what you have listed out from an armored costumer's perspective :

1. For PRACTICAL REASONS : you will definitely want the UPPER TORSO - ABDOMEN - COD Armor pieces to be separate, esp. when you NEED to make that emergency visit to the GENTS in the middle of Long trooping! ;D If the upper and lower chest and upper and lower back is ONE PIECE you have to REMOVE all the front armor before you can ease yourself. If the armor is separate, all you have to is to remove the Cod piece, do your business, put it back on and resume trooping. ;D

2. SHAPE of the PULL or FORM : You have observed yourself that the China made Clonterooper kit have Biceps that are not accurately shaped and looks like "round water pipe" whilst the Singapore one looks better / more accurate. Also there is also a risk that the China made "one piece water pipe" may NOT fit your biceps whilst the Singapore made 2 piece biceps armor can be adjusted to FIT your own biceps during the pre-assembly dry run stage. Also you won't have your entire arm into that "water pipe" ;D

3. DURABILITY of MATERIALS USED. From the pics, I SUSPECT that the China made is clonetrooper armor which is "not so glossy (from the pix)" would have been made of a cheaper and LESS DENSER material called STYRENE, which is also porous and brittle. As I have suspected it may not last in the long term after a few trooping in it ....and KOYAK!!


Also damage could also occur at the cutting stage as you attempt to separate the Chest, Abdomen and Cod pieces from the Front and Back piece.

The Singapore made armor is a more sturdier fibreglass that is DENSER and MORE DURABLE for trooping in years to come.




4. GROIN PLATE : I have already addressed it as the Cod Armor piece under point no. 1 "PRACTICAL REASONS" ;D


The BOTTOMLINE is a cheaper set of armor will save you on the initial expenses, but will COST you MORE to MAINTAIN it, esp. when CRACKS appear after a trooping event with the MySciFiFan STAR WARS Costumed Contingent

You might have to do more repairs after each trooping and before the next. Perhaps I'll get the "Made in Singapore" Episode III Clonetrooper Armor Kit MAKER to post here to provide further clarifications to you. How about that clonetrooper?